Random Verses from "Of Course, It's Obvious" for Anyone and Everyone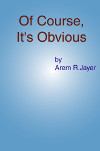 Available at ...

&nbsp
and
&nbsp
&nbsp
&nbsp
For people who look Life and Truth straight on.
Whether it is idealistic realism or realistic idealism, it ain't easy.
This is for anyone who recognizes that What Is, Is. Hopefully the random verses below will help and hopefully the book will help more...
&nbsp
&nbsp
&nbsp
&nbsp
&nbsp
&nbsp
&nbsp